'By faith Abraham, when he was tested, offered up Isaac, and he who had received the promises was in the act of offering up his only son,  of whom it was said, "Through Isaac shall your offspring be named." He considered that God was able even to raise him from the dead, from which, figuratively speaking, he did receive him back'
(Hebrews 11:17-19).
Before we moved to Stony Stratford I redecorated our house as we were going to be letting it.  My friend, who is a builder and decorator, was helping me.  One day I had to do an online bank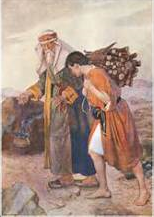 transaction on the computer in the room where he was working.  When I finished his words were: "and you trust that thing?"  He is, by his own admission, old-fashioned, paying and transacting everything in person.  You could say if he could see it, he believed it!
Those who received this letter wanted to see visible blessing at that present time!  But the writer of the letter is making it clear their spiritual forefathers did not see the full extent of God's blessings in their lifetime, yet they trusted him.
This is why the writer now comes back to Abraham.  He trusted God.  But there is real twist in verses 17-19 which makes Abraham's obedience up to this point seems simple!  God asks him to sacrifice his only son Isaac!  Becoming the father of a great nation appeared possible, even if Abraham did not see it in his own lifetime.  But, destroying the means of that promise…? That was another thing entirely!
A look at the story in Genesis 22:1-14 is useful.  Firstly, God is testing Abraham to give up the son he loved (Genesis 22:1-2).  We are party to what is going on, but Abraham is not!  Secondly, Abraham displays real faith when he mentions to the servants that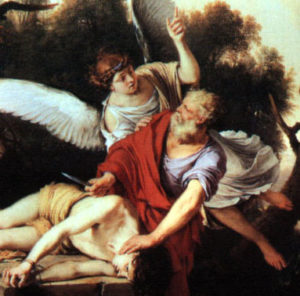 he and Isaac: "will go over there and worship and come back again to you" (Genesis 22:5).  This fits with the comment that Abraham: 'considered that God was able even to raise him (Isaac) from the dead' (v19).  He expected Isaac and himself to return!  Lastly, there seems to be compliance on the part of Isaac.  He is a young man in his late teens or early 20s strong enough to carry wood for the sacrifice, so it is unlikely he would be overpowered by his father who was over 100 years old.  The structure of the Genesis passage in verses 9-10 deliberately slows the narrative to give the impression of each step and task being done thoroughly,   by the use of the words: 'and' and: 'Then'…Admittedly, modern sensibilities may struggle with Abraham contemplating sacrificing his son, the emphasis here, however is on his remarkable faith![1]
However there is yet another aspect we should note. In John 8:56, when Jesus is conversing with the increasingly hostile Pharisees he states: "Your father Abraham rejoiced that he would see my day.  He saw it and was glad."  How are we to understand this extraordinary statement?  I think the answer is found in the above described episode of faith.  The phrase: 'figuratively speaking' (v19) can be rendered in the Greek as: 'as a parable'.[2]  So Abraham receiving Isaac back from his figurative death acts as a parable that points to Christ's work – Abraham in being willing to sacrifice his only son, just as God gave up his only son, and the probable compliance of Isaac in the same way Jesus was compliant with his Father's will.  We also have God's provision of a ram (Genesis 22:11-14) – in the same way, we are spared through Christ's substitution for our sin.  God had promised that by Abraham: "all the families of the earth shall be blessed" (Genesis 12:3).  Maybe, through these events, Abraham was partial to some understanding how God might just do that!
Want to listen to a sermon on this passage?  What's so Special about Someone who Lived in a Tent? Part 2.
[1] However, whatever our modern sensibilities, John Currid makes the point that in verse 19 of the Genesis passage the idea of he and Isaac and going together has been used twice before in the passage (vs6 and 8) and therefore reflects a: 'harmony between father and son on the way to the mountain. Now it is used here for the same reason: as they return from the mountain there is still harmony between them.' John D. Currid, A Study Commentary on Genesis, Volume 1, (Darlington, Evangelical Press, 2003), 396.
[2] Richard D. Philips, Hebrews, Reformed Expository Commentary, (Philipsburg, P and R Publishing 2006), 478.